Arrowhead Cadillac Previews the New CT6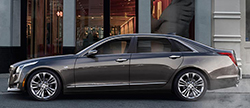 Debuting with elegance and vigor, the 2016 Cadillac CT6 in Glendale is bound to wow valley buyers with its impeccable design and innovative features. Created to represent the future of luxury sedans, the CT6 offers drivers with an extensive array of standard technologies, impressive capability under the hood and a premium feel. Interested in learning more about Cadillac's premier new sedan? Check out our full 2016 Cadillac CT6 review below.
The CT6 is lighter, stronger, more efficient and more spacious than rival performance sedans. The 3.0L Twin Turbo engine delivers 400-horsepower and 400 lb-ft of torque for top-notch power, while the lightweight frame and active chassis system allows the CT6 to make tight turns and quick accelerations. Between the efficient all-wheel drive, three performance driving modes, an eight-speed automatic transmission and magnetic ride control, the CT6 is equipped for any ride.
The interior of the CT6 is made up of premium materials, exquisite details and contemporary technologies to offer an unrivaled experience for drivers and passengers. Standard with wireless charging capability, an industry-exclusive rearview mirror, a 34-speaker Bose audio system, a 10.2" touchscreen with CUE software and a center console touchpad, built-in 4G LTE Wi-Fi and a surround-view video recording system, the 2016 Cadillac CT6 in Glendale is equipped with the most up-to-date connective software. In addition, comfort is never a question in the CT6 thanks to all-new rear seats with massage, heating and cooling features, a Quadzone climate system, generous legroom and segment-best interior storage space. Wondering about safety? The 2016 CT6 comes with Advanced Park Assist, Pedestrian Collision Mitigation technology, an exceptional security suite and optional Night Vision software.
Spacious and elegant, the 2016 Cadillac CT6 breaks ground with luxurious flair and next-generation capability. Between a superlative powertrain, a precise architectural design and high-class, personal technologies, the all-new Cadillac full-size car lives up to the 2016 Cadillac CT6 reviews that already acclaim the performance sedan as a top contender in its class.