Glendale Dealer Researching the New ELR ELR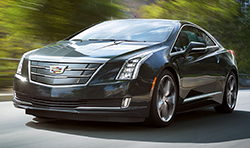 Updated with an extended driving range, extra power and impeccable features, the 2016 Cadillac ELR in Glendale is a premium plug-in hybrid built for valley buyers. Not only does the ELR come stocked with all of the standard features that upscale buyers seek, but it also comes with a fuel efficiency guarantee and a sophisticated road presence for a flawless, well-rounded ride. Interested in the luxury plug-in hybrid that 2016 Cadillac ELR reviews acclaim as a segment leader? Test drive an all-new ELR in Glendale today and discover the refinement that can be found only in a Cadillac.
Valley drivers will be especially pleased with the upgraded electric drive system showcased in the 2016 Cadillac ELR in Glendale. Thanks to the vehicle's battery pack and intuitive Regen on Demand system, the ELR offers an all-electric driving range of up to 39 miles. As the battery runs down, a 1.4L range-extending engine kicks in to offer a full driving range of up to 330 miles. Plus, the updated powertrain delivers ELR owners 25 percent more horsepower and torque than before and a 0-60 acceleration time of 6.4 seconds. Looking for even more power? A special performance package is available with 20-inch performance tires, front Brembo brake calipers, specific suspension calibrations and sporty accents.
Matching the ELR's agile powertrain, both the interior and exterior showcase athletic capability and refined styles. Inside, the electric car boasts top-tier personal technologies like a built-in Wi-Fi hotspot, wireless phone charging, a 9-inch touchscreen display with CUE software, Bose surround-sound speakers and a heated steering wheel. Carrying on with the advanced technologies, a premium safety suite is available with OnStar emergency, blind-sport alerts and forward collision warning software. Additionally, the 2016 ELR showcases sleek proportions, LED headlights with the Intellibeam software, heated mirrors, 20-inch wheels, and keyless ignition and entry for a truly accessible ride.
Are you interested in a premium plug-in hybrid near Phoenix? If so, the all-new ELR is the choice for you. Praised by 2016 Cadillac ELR reviews for its alluring charm and generous array of features, the newest version of Cadillac's innovative hybrid coupe is a winner for valley drivers.